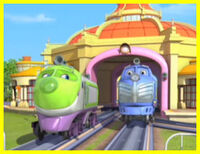 A Pat On The Paintwork is the twenty-fifth episode of Season 2.
Plot
After Emery sees Wilson and Brewster win badges, he wants to get badges too. So Hoot and Toot give out "fake" badges. Meanwhile, Koko and Harrison start a race and find that it is a tie! Emery suggests Koko to get the High Speed Badge, so Koko asks Vee. Vee agrees. Then, Emery have to collect passengers to cheers for Koko. But Emery is too busy playing "fake" badges, he take the passengers to the wrong place! Because no one cheers for Koko, she stops 'cos she is tired. Emery decouple his carriage and cheers Koko, which makes Koko fire again till she won the badge.
Characters
Ad blocker interference detected!
Wikia is a free-to-use site that makes money from advertising. We have a modified experience for viewers using ad blockers

Wikia is not accessible if you've made further modifications. Remove the custom ad blocker rule(s) and the page will load as expected.