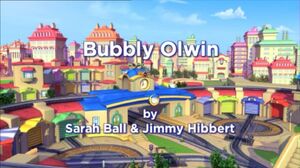 Olwin goes to the Chug Wash and a bottle of elephant soap ends up in her tank due to Wilson and Brewster fighting over it, now it is up to her to get rid of it. Can she get rid of the item or will the Glorious Days of Steam event will be ruined.
Characters
Gallery
Ad blocker interference detected!
Wikia is a free-to-use site that makes money from advertising. We have a modified experience for viewers using ad blockers

Wikia is not accessible if you've made further modifications. Remove the custom ad blocker rule(s) and the page will load as expected.