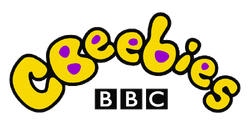 Cbeebies
is owned by the BBC, which currently owns the rights to Chuggington. It has been airing the British version of the show from September 2008 to the present date.
It was launched on February 11th 2002 alongside CBBC, a channel aimed at older people and its sister Channel. It has an audience share of around 1.2% in the UK
The Chuggington episode 'Braking Brewster' is Cbeebies 8th most viewed programme ever. with 722,000 viewers. With 3 editions of 'Cbeebies Christmas Pantomine', 2 episodes of 'Justin's House', and an episode of 'Gigglebiz' and 'Octonauts' being the only shows to have more viewers.
External Links
Ad blocker interference detected!
Wikia is a free-to-use site that makes money from advertising. We have a modified experience for viewers using ad blockers

Wikia is not accessible if you've made further modifications. Remove the custom ad blocker rule(s) and the page will load as expected.