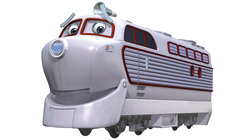 Chatsworth
Class: Baldwin RF-16
Voice: Andy Nyman (UK); John Chancer (US) Jhonny Torres (Latin America)
Chatsworth is a kind American diesel at Chuggington.
Bio
Chatsworth is an older well-spoken train who generally performs the same tasks as Harrison. Being good mannered and polite is very important to Chatsworth. He is a very proud chugger and is always in tip top condition as he feels it's very important to be looking your best. Always one to offer a few words of advice to the trainee's as he chugs around Chuggington on his important duties, Chatsworth considers himself definitely one of the upper crust of chuggers in Chuggington, but he is not a fool. He is always considerate. He always wants a rest or a nap so he can get tired.
Basis
He is based on a Baldwin Sharknose Locomotive, Baldwin RF-16.
Trivia
Both he and Harrison share a friendly rivalry with one another.
He generally performs the same tasks as Harrison.
Chatsworth was a trainee with Harrison as stated in Watch Out Wilson.
In German, Brazilian and Spanish (LA) he is called Christian. Ironically, In Hebrew he is named יהושוע
In Polish, he is called "Cezary".
Chatsworth resembles Henry in Thomas and Friends due to Gordon and Henry being good friends and having a friendly rivalry just and Harrison and Chatsworth
Gallery
Merchandise Gallery