Chuggington Wooden Railway is a range of toys manufactured by TOMY. The trains are made out of both wood and plastic.
Chuggers
Rolling Stock
Quarry Cars
Safari Cars
Rescue Cars
Musical Car
Dinosaur and Camera Car
Monkey and Banana car
Action Chugger Mobile Car
Fuel Cars
Greatest Moments
Ready to Roll Harrison (coming soon)
Hodge Coal Loader (coming soon)
Frostini's Ice Cream Delivery (coming soon)
Wilson's Crane Training (coming soon)
Sudsy Koko pack (coming soon)
Bubbly Koko and Bubble car
Winter Wonderland Brewster with Musical Car
Magnetic Wilson and Crane Car
150th Anniversary Old Puffer Pete
Chug Patrol Wilson
Chug-a-Sonic Koko
Chug Patrol Wilson with Crane
Chuggineer Brewster with Crane
Chug-a-Sonic Koko with Coach
Sets
Beginner's Set
Over and Under Starter Set
Calley's Rescue Set
Trainee Roundhouse Set
Brewster's Icy Escapade Set
Old Puffer Pete's Mountain Adventure
Destinations
Double-Decker Roundhouse
Fuel Depot
Chug Wash
Tunnel Depot
Lights and Sounds Track Crossing with Vee
Lights and Sounds Signal Lights
Rotating Riser Tower (coming soon)
Old Chuggington Turntable
Track Packs/Expansion Packs
Chuggington Track
Accesory Pack
Elevated Track Pack
7 in 1 Track Pack
Expansion Track Pack
Straight and Curved Track Pack
Accessories
Talking Engines
Trivia
Calley's Rescue Set has another version and it comes with Brewster.
Begineer's set also has the same story, but came with Koko.
Masterminds Toys Canada were the first store to sell the range in the world.
Nearly every model has six wheels, making them inaccurate to their appearance in the television series, as almost every chugger has eight wheels in the television series.
Gallery
Videos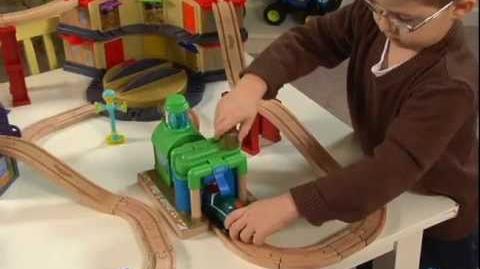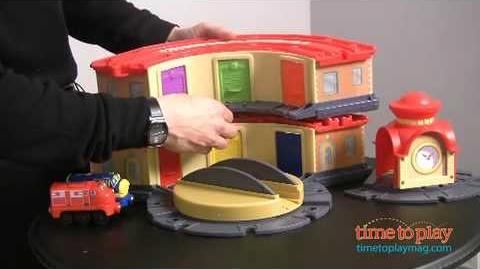 Ad blocker interference detected!
Wikia is a free-to-use site that makes money from advertising. We have a modified experience for viewers using ad blockers

Wikia is not accessible if you've made further modifications. Remove the custom ad blocker rule(s) and the page will load as expected.