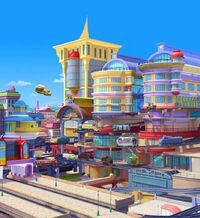 One of Chuggington's most important places is the
City Centre. 
It is always busy and full of work. Chuggington's tallest buildings are here. they are so tall that track sections have to be placed over each other.
It was first introduced in the Season 2 premiere,  Koko's New Look. Wilson was sent here for the first time to collect a mirror, he spent sometime looking around acting amazed around the scale of this area.
Season 4 introduced a new Chuggington Central Station which is worked on by Koko, Hanzo, Decka and Emery. Smaller stations have also been seen around the buildings.
Gallery
Ad blocker interference detected!
Wikia is a free-to-use site that makes money from advertising. We have a modified experience for viewers using ad blockers

Wikia is not accessible if you've made further modifications. Remove the custom ad blocker rule(s) and the page will load as expected.