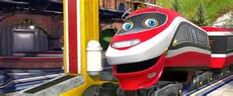 Daley is a supporting character. Daley is an Express delivery chugger. He is one of the fastest chuggers in chuggington. His motto is "Daley delivery careful and quick. Daley delivery there in a tic."
He first appeared in the 7th episode of season 5 titled "Koko Express." He is voiced by Kenai Kamaka'appawaii in the United States and by an unknown voice in the United Kingdom.
Trivia
In German, he is called "David". In Polish, he is called "Goniec", which means "Chaser".
Ad blocker interference detected!
Wikia is a free-to-use site that makes money from advertising. We have a modified experience for viewers using ad blockers

Wikia is not accessible if you've made further modifications. Remove the custom ad blocker rule(s) and the page will load as expected.