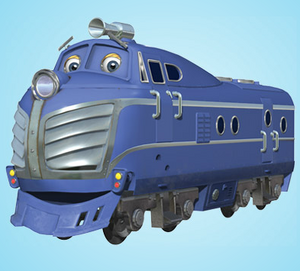 Harrison
Class: UPR M-10003
Voice: Colin McFarlane (both U.K. and U.S.) Juan Guzmán (Latin America)
Harrison is a blue American diesel-electric hybrid locomotive..
Bio
Smooth Harrison thinks he's the cat's whiskers (And the vents on his face even make him look a bit like a cat). He lives in the upper level of the roundhouses, the penthouse suite, accessible by an elevated turntable. Wilson hero-worships him. Though he is vain and prideful he is a hardworker.
Basis
Harrison is based on the Union Pacific Railroad M-10003.
Trivia
Harrison is good friends with Chatsworth.
Harrison is Chuggington's fastest diesel ever.
He is Wilson's role model and sometimes a mentor to Wilson.
Harrison was once a trainee with Chatsworth as stated in Watch Out Wilson.
He is easily a smarty-pants to the other chuggers.
In German and Latin America he is called "Harry", In Czech he is called Rychlovous (episodes 1-26, 53 onwards), which means Fastbeard. However, after it was revealed that there would be another chugger called "Harry", his naming in the German version was changed so that Harry is only a nickname now.
In Polish, he is called "Hektor".
In Hebrew his name is אוהד
His behaviour and attitude is similar to Gordon from Thomas the tank engine and Thomas looks up to Gordon just as Wilson looks up to Harrison
Gallery
Merchandise Gallery