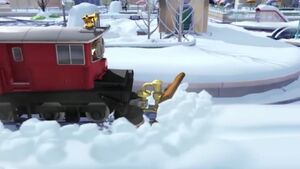 Heave Ho Harrison
is the 13th episode of
Season 2
Plot
On a snowy day, Koko and Harrison go out to plough the snow off the yellow line. Unfortunately Harrison gets stuck into a snow drift and every chugger helps to pull him out. And help to sing whistle while work. To sing.
Meanwhile, Hoot and Toot have sang Chatsworth to sleep, and when they wake him up, his engine had frozen. When Hoot and Toot help Chatsworth to perform a jumpstart, he and Hoot and Toot help get Harrison out the snow drift.
Harrison is unaware that all the chuggers helped out and wants Koko to keep it a secret. Untill all the chuggers run past them.
Characters
Gallery