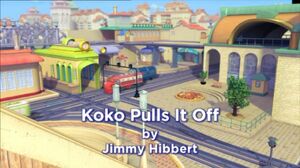 Koko pulls it off is the 23rd episode in Season 1.
Plot
Koko fails her test when she bumps the passenger car after Mr. Simpkins falls down. Mr. Simpkins told her not to take the retake when he uses the sentence: "No, you have a retake, next year." Koko gallivants off from her test crying when she met Irving. Irving uses the sentence: "Do you want to be recycled?" and Koko doesn't want to and she told Irving the whole story. Irving then scolded Simpkins for taking things too far by being rude. This prompted Simpkins to apologize for his behavior. Simpkins then asks: "Koko, shall we start the test again?" Koko retakes her test. And most of all, Koko did pass. After the tests, Simpkins promises to behave nicely to chuggers from now on.
Characters
Gallery
Ad blocker interference detected!
Wikia is a free-to-use site that makes money from advertising. We have a modified experience for viewers using ad blockers

Wikia is not accessible if you've made further modifications. Remove the custom ad blocker rule(s) and the page will load as expected.