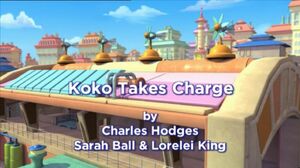 Koko Takes Charge
is the 49th episode of Chuggington on Season 1.
Plot
Irving is called away from Chuggington to do a job at the Docks, so he leaves Koko in charge of the Recycling Yard. Koko is so excited about being in charge that she doesn't listen carefully to Irving's instructions and she and Wilson only suceed in making a huge mess. When Irving comes back later that day only to discover the mess, he is very cross with Koko. Koko and Wilson decide to redeem themselves by tidying up the Recycling Yard properly even it means working all through the night.
Featured characters
Gallery
Ad blocker interference detected!
Wikia is a free-to-use site that makes money from advertising. We have a modified experience for viewers using ad blockers

Wikia is not accessible if you've made further modifications. Remove the custom ad blocker rule(s) and the page will load as expected.