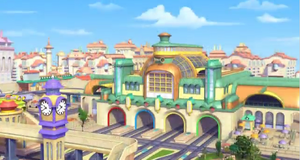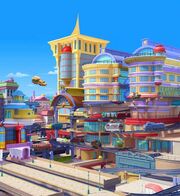 New Chuggington often referred to as
Chuggington
is a fictional and futuristic city. Chuggington is based in a fictional country called
Buffertonia
. It appears to be near
Old Town
and
Tootington
. No map of Chuggington has been seen yet. It is mostly run by diesels but steam engines and electric engines also work in the city, however no cars or buses work on the railway but Emery mostly takes people to where they need to be. The train line is controlled by Vee and she is helped out by Morgan, Lori and Eddie who fix the chuggers when they break down. The city's depot is mostly seen in episodes but the countryside and the border bridge are also seen in often.
Notable Locations
Chuggington Depot
Repair Shed
Training Yard
Mountains
Countryside
Ice Cave
Recycling Yard
Rolling Stock Yard
Emery's Line
Gallery
Ad blocker interference detected!
Wikia is a free-to-use site that makes money from advertising. We have a modified experience for viewers using ad blockers

Wikia is not accessible if you've made further modifications. Remove the custom ad blocker rule(s) and the page will load as expected.