Scrub-A-Chug is the 14th episode of Chuggington's Second Series.
Plot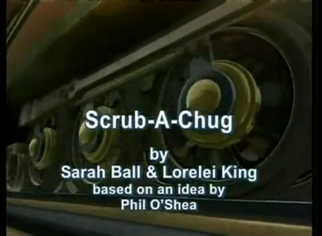 Chatsworth notices it is getting very dirty inside the underground tunnels. Eddie and Hodge are sent to clean the sludge out of the tunnels, so they refill the Scrub-A-Chug, a piece of rolling stock that brushes the tunnels clean, with soap. Their work is interrupted when they get called away on an emergency. Wilson decides to be helpful by finishing their chores.
Unfortunately, he accidentally replaces the chugwash soap with chugwash sludge when Chatsworth needs a wash and when he tries to clean the tunnels with the Scrub-A-Chug, he ends up making an even bigger mess! Happily, he figures out a way to use the chugwash soap with the Scrub-A-Chug and when Eddie sees the sparkling clean tunnel, he's thrilled.
Characters
Trivia   
This is the first time Eddie wears a visor and ear protectors helmet and uses a chainsaw.
Goofs
When Calley pushes the button to go to her underground chamber, her coupler doesn't come out all the way. 
Gallery
Ad blocker interference detected!
Wikia is a free-to-use site that makes money from advertising. We have a modified experience for viewers using ad blockers

Wikia is not accessible if you've made further modifications. Remove the custom ad blocker rule(s) and the page will load as expected.