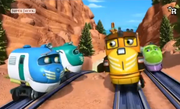 Not to be mistaken with the episode of the same name.
Skylar's Squad is currently a one-off team created by Skylar.
Members
It is also assumed that Wilson, Brewster, and Koko had joined but must have quit before Chug Patrol: Ready to Rescue when they got their new jobs. If it ever appears again Piper may have joined as well.
Ad blocker interference detected!
Wikia is a free-to-use site that makes money from advertising. We have a modified experience for viewers using ad blockers

Wikia is not accessible if you've made further modifications. Remove the custom ad blocker rule(s) and the page will load as expected.