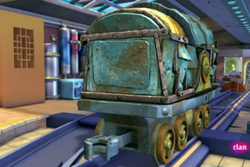 Terry
Class: Tender
Voice: No voice
Terry was Old Puffer Pete's tender.
Persona
Terry is not a train but he is quite important. He is Old Puffer Pete's old tender from the days of steam locomotives, but he was on his last wheel. He soon he worn-out and was abandoned. Old Puffer Pete went to New Chuggington and then got modified into a tank engine. Many years later, Terry was found and he was sent to the scrapyards. Zephie and Brewster once though that Old Puffer Pete is ready to go to the scrapyards but that was a misunderstanding, as instead it was Terry the tender ready to go.
Appearances
Terry only has one named appearance, in Poor Old Puffer Pete.
However, he also appeared in a Badge Quest episode where Hoot and Toot were collecting left behind rolling stock. He was mentioned but not named as "My tender car" by Pete in Gold Wheels. He was used as Harrison's practice rolling stock in Series 3's Hodge Can't Wait.
Ad blocker interference detected!
Wikia is a free-to-use site that makes money from advertising. We have a modified experience for viewers using ad blockers

Wikia is not accessible if you've made further modifications. Remove the custom ad blocker rule(s) and the page will load as expected.